/ 17
Great Mate Starter Kit
Great Mate is designed to dispense, slice and dice our home compostable cling wrap. The internal spool design allows Great Wrap to glide seamlessly off the roll.
This starter kit includes:
1 x Great Mate
2 x Nudie Rolls — Great Mate Refills
Great Mate made from 33 recycled PET bottles in Melbourne

Designed to clothe your Nudie Rolls
Easy to use slide button for graceful slicing
40cm x 8cm

 

⌀
Nudie Rolls

 

— 

Great Mate Refills

Our latest and greatest formula developed for 

optimum wrapability
Home compostable 
Made with food waste and compostable biopolymers
34cm x

 30m

 x 10um
Subscribe to receive 2 x Nudie Rolls every 2 or 3 months. A recurring payment of $9.90 will be deducted for each shipment.
$5.00 flat rate for shipping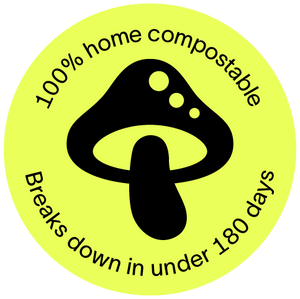 Why compostable materials are the future
The rapidly changing world of packaging is intimidating for both businesses and consumers. No one wants to do the wrong thing and cause more harm than good.
We are closing the loop on our systems so that fossil fuels and intensive agriculture are no longer a part of the international production landscape. The by-product of the food waste conversion we're working on will be a soil and marine degradable natural plastic solution.
Get the facts!
So what's the difference between 
compostable and biodegradable packaging?
Compostable packaging breaks down into carbon and water leaving no toxins behind. It's made mostly from plants.
Biodegradable packaging is made from petroleum like regular plastic but has an organic additive that enables it to break down very easily when exposed to sunlight and moisture. The problem is that it will only break down to smaller pieces of plastic or microplastics.
/ 2